information
Edit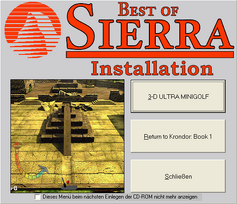 Best of Sierra was a video game magazine series this was issue 11 March/April it was released in March 1999 only for Germany Austria and Switzerland. It usually features 2 full video games on CD-ROM but this issue had. 3-D Ultra Minigolf full game and return to krondor demo. Since the size of the games there was no room for two full games so they added detailed walk through's a map of a game and articles on newly developed Sierra Entertainment games.
Other information
developed by PyroTechnix and Sierra
published by Cendant Software Deutschland GmbH
People involved Karl-Xavier Nuebig, Rolf D. Busch, Thomas Schmidt, Anja Wulfing, Oliver Funke, Ansgar Hillier, Alexandra Hustert, Marcus Hartmann, Josh Mosler, Ilga Tick, Planet Pixel Koln, Thomas Dönnecke, Birgit Fröhlich, Stephanie Garnault, Sebastian Gracco, Michael Junkel, Nathan Kaplan, Frank Matzke, Miriam Nau, Marie‑Cecile Pineau, Stefanie Pranz and Das Team Koln
references
Edit
Ad blocker interference detected!
Wikia is a free-to-use site that makes money from advertising. We have a modified experience for viewers using ad blockers

Wikia is not accessible if you've made further modifications. Remove the custom ad blocker rule(s) and the page will load as expected.